---
$10 Phone Sex with Bargain Bimbos!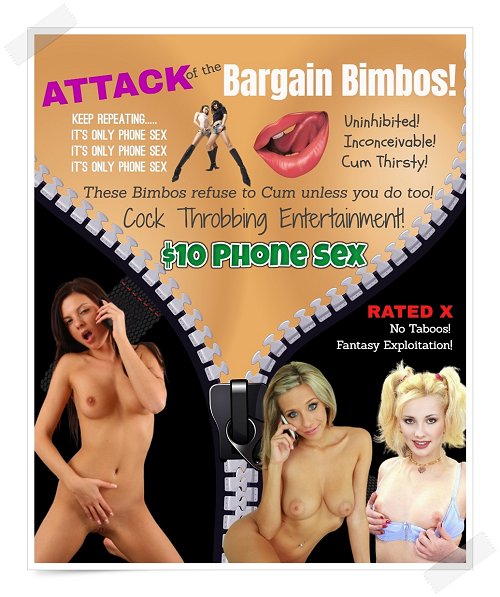 ---
What happens when a mad scientist decides to create the perfect female phone sex servants? And what happens when the plans turn toward World Domination? What happens when the mad scientist loses control of the Bimbo Squad? Will these hot ladies control all of earth's men with their demon beavers? And what if the price to talk to these lovely creations is only $10 bucks? Find out the answer to these questions and more… when you call BARGAIN BIMBOS!
Dangerous Phone Sex Liaisons
Are you horrified by filthy sex fantasies and sexual talk without any limits? If so, you better leave now. This website is a safe haven for freaks. We like it kinky, rough, dirty, and without taboos. We believe in FUN… flirtation…. and phone sex fuck-a-thons. Whether you like it fast and dirty for the $10 phone sex price… or if you are a creative and intelligent guy who likes longer calls… these cum-thirsty bimbos are going deliver exactly what you crave.
Pick Your Chick
Our horny ladies are curious, obsessive about sex, and very kinky. They behave in a horny and natural way because that is who they are! If your fantasy is not already a sleazefest then they will make it one because Bargain Bimbos are all about perverted pleasure.
---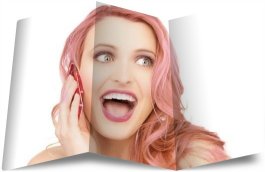 A Phone Sex Paradise
It's a bimbo bonanza here because we'll take you to the outer limits of your kinky fetishes and fantasies. There are no limits to your imagination with our sexploiters. We'll discover your triggers and erogenous zones to create the ultimate double feature in phone sex!
Phone Sex





$2.00 per min after the minimum
International calls - 1-808-460-6611
Same Rates - Long Distance Charges apply
Billing shows up very discreetly on your credit card statement. The name is listed on the preamble recording you will hear when you call.
Billing is easy and very secure. We use an automated system so you can Pay by Phone. This means you will enter all of your own Credit Card details and do not need to give that information over to a live person. Your info is more confidential this way and you maintain control of how much you want to spend. 
Some clients like to Pay Online for their call, and you can do that by registering an account with us. The same thing is true that this is secure and you maintain control. Some clients like paying online so that they can add funds to their account in higher amounts, and then break that up into several calls or do one long call. 

Paying Online has lots of benefits including Easy private messaging to Ladies, your own Call Reports so you can see EXACTLY what you spent, ease in adding funds, marking certain girls as your Favorites, and more!
Privacy

All billing is discreet! You'll hear the billing name on the preamble when you call along with a review of the rates and how the service works. It's very confidential and no one will ever know you have called a phone sex line.  All billing is secure! No human being will even see your full credit card number.
You MUST enter your and use your real information for billing.  But our Bimbos never see any of it.  You can use a fake name with them.  It can't get any more private than that!
If you sign up for our service online please know that everything is secure and we are never going to email you unless there would be a problem with your billing. Operators do not "share" information and no one discusses your interests. We never pass your information along about you. Whatever you talk about with each lady is completely private and only between the two of you!
We do not do mailings and we do not spam your email. 
We do not send anything via snail mail and we won't send you any email unless you contact first. We have excellent customer service skills and we understand that our clients value their privacy!
Tramp-A-Rama
Why do we call ourselves bimbos? It's cute, it's fun, we mean it as a joke, and we aren't offended by words! We believe the word bimbo implies a sense of fun. It's attention-getting, it's flirty, and it implies a lot of naughtiness will follow. It's probably not a word for a girl you want to marry or want to meet your mom… but you DO know that you'll have a good time with a bimbo! That's exactly what we want to do with you every time that you call! Yes, we ARE truly what the name implies… Bargain Bimbos… obviously we like phone sex as much as YOU do too. So, if you are looking for a good time with no strings attached…… then give us a call!
Our Bimbos have NO TABOOS
This means you can talk about any fantasy you'd like. Go ahead and feel free to share your deepest and darkest desires with us! We're open-minded and you'll never be judged! We believe that fantasy needs a safe place to be expressed fully. And we work hard to provide callers with that opportunity! Whatever your fantasy is – we are open-minded to it. We believe in fantasy exploration and freedom!