$10 Phone Sex with Bimbos for Cock Throbbing Entertainment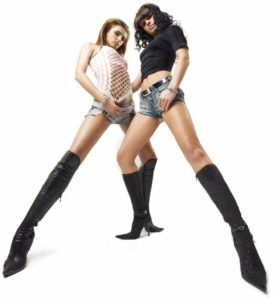 BargainBimbos.com where cheap phone sex is only $10 and it is an indulgence, a delight, and a specialty. That's right… when it comes to phone sex – nobody does it better than our horny hot fuck sluts. Why? Well… these bimbos all work from home, have no taboos, are available 24 hours per day, and the girls are totally hot for each other too! We specialize in bimbos and these bimbos LOVE cheap phone sex!  Oh, and it's not just typical phone sex with us… we're true bargains…. and we even like the term bimbo! We believe in FUN… flirtation…. and fuck-a-thons. Dirty telephone sex talk with naughty girls will curl your toes as well as make your cock throb.  We've kept our phone sex service quite simple by calling our toll-free 800 number and automated or online billing. Pick the babes you want to get down and dirty with for the best damn phone sex experience you've ever had! Our minimum time is low and the rates are cheap so you can afford to have fun! Get your cock ready for us because we plan on giving you a really hard time with the best phone sex you've ever truly experienced! And we don't fuck around unless we MEAN it, baby!
---

Why do we call ourselves bimbos? It's cute, it's fun, we mean it as a joke, and we aren't offended by simple things such as words! Bimbo is sort of a slang term used to describe a hot chick with little to no brains. We truly do not feel that a particular definition fits us…. but we DO like the word. We believe the word bimbo implies a sense of fun. Its attention-getting, it's flirty, and it implies a lot of naughtiness will follow. Pretty much describes us well in those terms! It's probably not a word for a girl you want to marry or want to meet your mom… but you DO know that you'll have a good time with a bimbo! That's exactly what we want to do with you every time that you call! We'll make it a party baby! And no, we're not interested in meeting mom! Yes, these girls ARE truly what the name implies… Bargain Bimbos… we like phone sex as much as YOU do too. So if you are looking for a good time with no strings attached…… then give us a call!
These phone sex girls are your average kind of girls. They aren't more intelligent than anyone, they come from typical and normal households, they live ordinary lives. Perhaps one of the more interesting things about them is that they are phone sex operators. All girls work from the privacy of their homes and the one thing they all share in common is their need for sex. These girls live their ordinary lives…. at least on the surface. But each and every day these bimbos are making men cum on the phone, and they do it because… they are bimbos in the perfect sense of the word!
Phone Sex
Billing
Privacy
No Taboos
Customer Service
Phone Sex

$10 Phone Sex

1-888-224-6113
Calls are Billed at $2.00 per min
You Must be 18+ to call
Billing
The way Bargain Bimbos do billing is easy and very secure. We use an automated system so you can Pay by Phone. This means you will enter all of your own Credit Cards details and do not need to give that information over to a live person. Your info is more confidential this way and you maintain the control of how much you want to spend. 
Some clients like to Pay Online for their call, and you can do that by registering an account with us. The same thing is true that this is secure and you maintain control. Some clients like paying online so that they can add funds to their account in higher amounts, and then break that up into several calls. 

Paying Online has lots of benefits including: Easy messaging to Ladies, your own Call Reports so you can see EXACTLY what you spent, Ease in adding funds, marking certain girls as your Favorites, setting up arranged Call Backs, and more!
Privacy

All billing is discreet! You'll hear the billing name on the preamble when you call along with a review of the rates and how the service works. It's very confidential and no one will ever know you have called a phone sex line.  All billing is secure! No human being will even see your full credit card number. And you don't have to use your real name with the operator either. It can't get any more private than that!
If you sign up for our service online please know that everything is secure and we are never going to email you unless there would be a problem with your billing. Operators do not "share" information and no one discusses your interests. We never pass information along about you. Whatever you talk about with each lady is completely private and only between the two of you!
We do not send anything via snail mail and we won't send you any email unless you contact first. We have excellent customer service skills and we understand that our clients value their privacy!
No Taboos

Our Bimbos have NO TABOOS. This means you can talk about any fantasy you'd like. Go ahead and feel free to share your deepest and darkest desires with us! We're open-minded and you'll never be judged! We believe that fantasy needs a safe place to be expressed fully. And we work hard to provide callers that opportunity! Whatever your fantasy is - we are open-minded to it. We believe in fantasy exploration and freedom! 
Customer Service

We believe in STRONG Customer Service. We know you have lots of choices but BargainBimbos.com is a caller oriented company. Our goal is your SATISFACTION and that not only happens during the sexy talk... it happens with the ease of your full experience from the moment you call. We "get it".  We treat our callers with RESPECT, we never discuss your call, and you have control over your spending with our system!
If you have any issues using our website or services please feel free to contact customer service between 10 am and 7 pm daily. We'll try to help you in any way that we can! You can reach Lynn by calling her direct at 1-888-522-3403.